Product Global Lab
Global Lab, a complete Laboratory Management Solution is an evolution of in-depth analysis & in-laboratory experience gained over 10 years.
The solution is developed not on requirement based model but analytical model combining of Medical knowledge, Business experiences, Process approaches, Management Needs, Marketing Needs to sustain & grow in competitive world with best quality, precise & timely deliverables on daily basis.
We have realized the hard time face by receptionists, technicians, report typists, doctors on daily bases as they are meeting time deadlines to deliver the results on which human life is directly associated.
At, PAM we have put up every single points in consideration while designing this completely indigenous, modular, scalable & versatile product.
The future products include various automated modules which will perform several tasks and will support the Laboratory Operations much efficiently to achieve best customer satisfaction.
---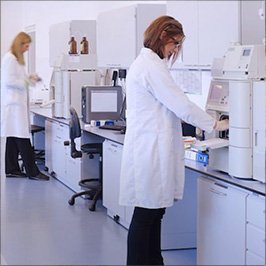 Key Features of Global Lab
ISO 15189:2003 complied process approach.
All test reports are unified, referenced & results highlight.
Helps to analyze reports for borderline & abnormal results.
Centralized database makes interlinking all the branches.
Flexible to add any tests in prescribed standards.
Laboratory Instruments interfacing with Centralized System.
Attachments of brochures, leaflets, advise sheets.
Management of packages, discounts, offers & promotions.
Management of doctors / clinics / hospitals.
Management of collaborator laboratories.
Management of corporate clients.
Management of patients visit based point system.
Management of collections, balances, discounts & points.
Management of privilege based & shift based user access.
Monitoring of request status till delivery.
Analysis of test results based on values.
SMS to patients on registration, request & reports delivery.
E-mail of reports to patients & reference doctors.
Control laboratory operations to global standards
ISO 15189:2003 Compliance
Unified Reporting of all Tests
Online Report Access
Multiple Branch Operations
SMS Alerts on Events
E-mailing Secured Reports
Inventory & Accounts Management
Flexible, Robust & Reliable
Benefits of Global Lab
Maintains patients and their family registry.
SMS alerts helps patients to collect reports without delays.
Allows patients to access reports online on internet.
Patients accumulates points & enjoys discounts.
Allows doctors to view their patients reports online.
Remote branches access their reports online for delivery.
Tracking system maintains record keeping of every request.
Tracking of request for best customer support.
Automated MIS reports for performance of every branch.
Analysis of results for follow-up and promotional activities.
Analysis results are exported to Excel & PDF formats.
Substantially reduces HR & administrative cost.
Integrated accounts system makes efficient administration.
Scalable system allows cover large geographical area.
Advanced server modules helps to take preventive actions.